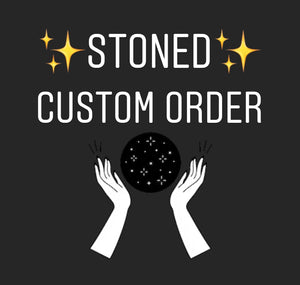 PLEASE READ ALL prior to purchase- 
Purchasing this allows you to custom create a necklace, ring, bracelet, or dangle with me! This is the deposit for a custom piece, so it will go towards the final price of your order! 
Please keep in mind my custom pieces generally range anywhere from $20-100. If you have a budget or price range in mind please let me know. 
Include in the notes a general idea of what you have in mind. We will then discuss more in depth the details of your piece(s) via instagram, Facebook, or email (stonedbymichelina@gmail.com) . Please include your @ if you'd like to talk via insta 
Once a design & price is set, I will send you a link to complete payment of your order. Once payment is complete, your piece(s) will be custom hand crafted to your specificities. 
*if this listing is "sold out" this means all spots are full at the time- contact me via instagram Facebook or email to request a spot on my wait list*